Your partner for all your cost and Carbon footprint reduction.
The Environmental Challenge
Global warming due to greenhouse gas emissions is one of the main threats to the future of the planet. Governments and international players are introducing many measures to prevent this danger (Kyoto Protocol, Paris Agreements, WEEE directives, …).
The goal is to achieve carbon neutrality by 2050 by measuring, reducing and compensating the carbon footprint generated by human activities.. 
In a world where billions of people are getting increasingly interconnected, companies are facing a rise in their IT costs and their digital carbon footprint.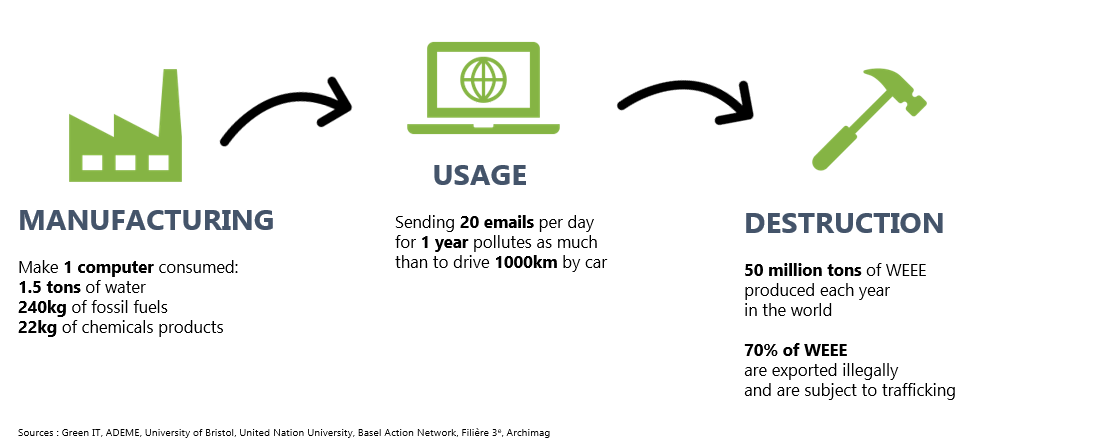 Did you know that it is possible to reduce both your environmental impact and your IT costs through the circular economy? 
With an expertise on more than 60 brands, including the main OEMs, WeeeDoIT provides services on a large range of equipment such as servers, storage, networking and telecommunications equipment, as well as PCs, laptops, and smartphones.
Focus on your activities and no longer monopolize your teams, we take care of all the services. From the pick-up of the products to their packaging, our logistics service will ensure a fluid and fast operation.
















WeeeDoIT is committed to constantly updating its capabilities to support the widest range of brands and equipment, according to your needs.
IT Costs Reduction
By using circular economy and changing your purchasing practices, we can ensure direct cost saving with a better CAPEX/OPEX balance.
Ecological impact Reduction
We measure the CO2 reductions achieved through our services and provide you with a quarterly report tracking your positive impact on the environment.
Tax reductions & Gov. funds
Our services will enable you to access tax reductions and government funding. All our partners respect CSR and sustainability standards, locally and internationally.
Band image & trust improvement
Positively impacting the environment and adopting an eco-responsible strategy are efforts that enhance your image with your customers and partners.
COMPLIANCE
Constant follow up of the rules and regulation of your region and country
EXPERTISE
16 years of experience across the IT market, and strong expertise in extending IT assets lifetime
SECURITY
Certified engineers and trusted partners to ensure security and protection of your data
ENVIRONMENT
Commitment to reduce carbon footprint for sustainable solutions that ensure the tracking of the second life.
212 Boulevard Bineau Neuilly-sur-Seine 92200 France
Open from 9am to 6pm